In parallel to the 2022 Atlas event, we launched a new initiative: the establishment of Atlas's educational arm, called Atlas Juniors.
Atlas Juniors is an educational project that connects talented youths with the chosen startups of the Atlas project, with the aim of creating a direct connection to leading entrepreneurs and introducing the companies, challenges, and coping strategies. This is complemented by theoretical and philosophical enrichment related to entrepreneurship, rationality, self-esteem, and goal adherence in the spirit of Ayn Rand's values.
As part of the project, we have so far held two meetings between innovation leaders and children from the Center for the Gifted and Talented in Ashkelon:
November 15, 2022 – A meeting with Jimmy Wales, the founder of Wikipedia, and the winner of the 2018 Atlas Award.
January 4, 2023 – A meeting with Dr. Michael Kauffman, founder and manager of Karyopharm and a developer of cancer drugs, and a partner in the Atlas project.
Read more about the project's development and growth on the Atlas Juniors website.
Media coverage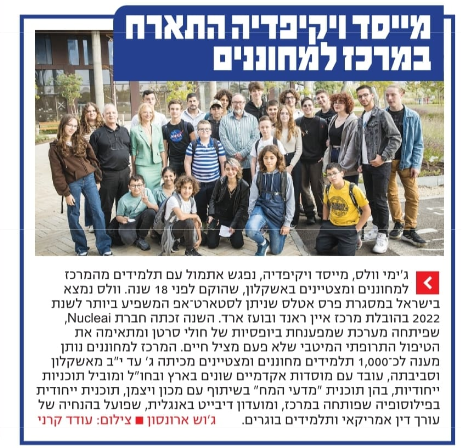 Students from the Center for Gifted in Ashkelon will meet with groundbreaking entrepreneurs, published on: January 10, 2023. For the full coverage.
תלמידי המרכז למחוננים באשקלון יפגשו עם יזמים פורצי דרך, פורסם בתאריך: 10.1.23. לסיקור המלא