2022 was the sixth year in which the Atlas Award event was held, in collaboration with TheMarker, Ayn Rand Center, Prometheus Fund, and other partners and supporters.
In the competition for the prize, Israeli startups that created a technology, idea, or product, which have an exceptional value in Israel and the world over the past year, participated in one of the categories:
(Healthcare and Life Sciences (HCLS
(Food Tech) Food Technology
Supply Chain Management (SCM)
Energy Development (ED)
Quantum Computing and Cybersecurity (QCC)
:Atlas Award Winner

Nucleai, a company operating in the field of medical technology.
The winning companies in the categories are:
Nucleai – Winner of the Healthcare and Life Sciences category and winner of the Atlas Award.
Addionics – Winner of the Energy Development category.
Findings – Winner of the Supply Chain Management category.
Watergen – Winner of the Food Tech category.
Ermetic – Winner of the Quantum Computing and Cybersecurity category.
החברות הזוכות בקטגוריות:
Nucleai – זוכת קטגוריית Healthcare and Life Sciences וזוכת פרס האטלס
Addionics – זוכת קטגוריית Energy Development
Findings – זוכת קטגוריית Supply Chain Management
Watergen – זוכת קטגוריית Food Tech
Ermetic – זוכת קטגוריית Quantum Computing and Cybersecurity
The Values of Entrepreneurship
Jimmy Wales, co-founder of Wikipedia
An optimist's perspective on the future of medicine
Michael Kauffman, Co-Chairman and CMO at SIRTLab Corporation
האתגרים וההזדמנויות של הסטארטאפים הישראליים
דב מורן, מנהל ושותף Grove Ventures
יסמין לוקץ', משקיעת הון סיכון, מנכ״לית ומייסדת ICON בשיחה עם עידו סולומון
הזדמנויות בתחום טכנולוגיות הפודטק בישראל
אלירן אלימלך, VP Ecosystem Development, Start Up Nation Central
העתיד הביטחוני- חדשנות מבצעית
איתן אשל, סמנכ"ל טכנולוגיות, חדשנות ומו"פ, התעשייה האווירית
יבגני דיברוב, מייסד-שותף ומנכ"ל ארמיס סקיוריטי בשיחה עם עידו סולומון
Atlas award winner 2021 – Augury Perspective
Lior Akavia, General Manager Process Health, Augury
תודה ודברי סיום
בועז ארד, מנכ"ל מרכז איין ראנד ומנהל האטלס
צילום: ליאת מנדל.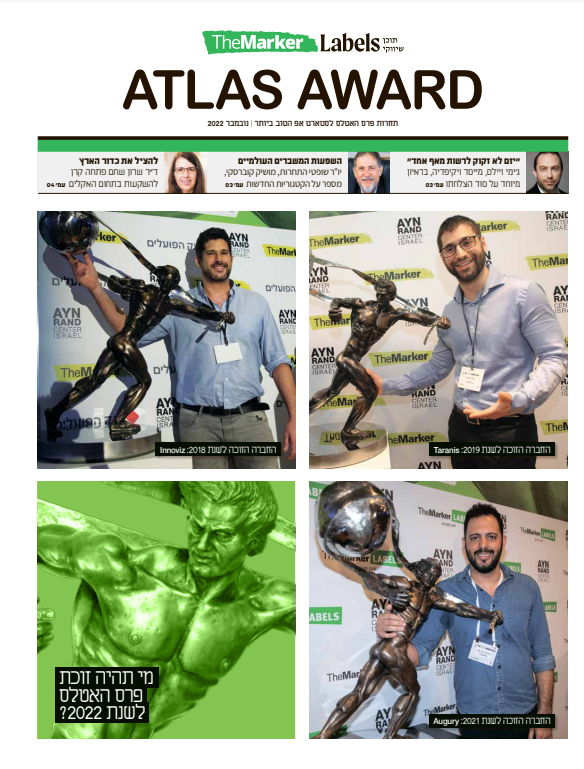 באירוע חולק מוסף מיוחד, להורדה בפורמט PDF
האירוע בתקשורת
סיקור האירוע בדה-מרקר
"נוקלאיי זכתה בפרס האטלס לסטארט-אפים שמייצרים ערך לציבור", דה מרקר

"מה הביא את מייסד ויקיפדיה לתל אביב" – גלובס, 15.11.22

מגיע לנו מזל טוב – יש עלינו ערך בויקיפדיה 🙂

ג'ימי וולס – המייסד של ויקיפדיה, הגיע ארצה לאירוע פרס האטלס, וואלה

פרס האטלס מוענק על ידי ג'ימי וולס, מעריב

Wikipedia's Jimmy Wales says Elon Musk and Twitter have a real problem, i24NEWS